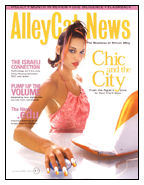 Alley Cat News: The Business of Silicon Alley
"Broadband on the Brink: Are We There Yet? Broadband Content Providers Arrive in Silicon Alley" by Sarah Milstein
July/August 2000, Volume 4.7 pg 50.
While other companies are creating content for broadband-enabled Web surfers, nextPix is giving users the means to create their own video content. The company's filmmaking software suite, Filmnexus™, is a Web application that is designed to supply collaborative tools for all aspects of film production, from scripting to video editing. The ASP-based software will be demonstrated at the Digital Hollywood conference in Los Angeles this September; a beta version will be available in the fall. nextPix is hoping that digital camera and editing technology, combined with Internet-based collaborative software and wireless technologies, will revolutionize the way films are produced.

"The real vision that broadband fulfills is a more democratic distribution environment that has a lot more diverse content created at much lower cost than traditional media," says Don Thompson, nextPix president and CEO. Thompson compares Filmnexus™ to desktop publishing software, which has permitted nearly anyone with a PC to turn out professional-looking printed products—products that formerly could be created only by graphic designers and commercial printers. "Technology, up to now, has made filmmaking more expensive. Our goal is to empower independent filmmakers, documentary makers and producers to create high-quality, low-cost content."
Before founding nextPix in February, Thompson was president of his own consulting firm, which provided technology strategies and systems integration for large corporations. He also has a degree from UCLA's film school, and his first feature film was completed in 1999. With a combined high-tech and media background, Thompson saw an opportunity in the Web for breaking through the cost and communication barriers that discourage independent filmmaking: "Film is a collaborative process, and the Web allows for many people to communicate over distance. So we'll create a virtual collaborative space or complement face-to-face collaboration."
Beyond front-end user interfaces, nextPix is planning to offer an array of cost-saving tools to filmmakers and producers, such as templates for budgeting and packaging a film and content management services like Web-based archiving of digital video footage. In order to make its services available to filmmakers who use celluloid (rather than digital) film, the company is looking to develop partnerships with processing labs that can digitize celluloid footage.
nextPix was started with angel and private investments; a first round of venture capital funding is on the horizon. To generate revenue, nextPix will charge a fee for use of its applications. The company could also derive commissions from facilitating transactions for goods and services. Towards that end, Thompson says the company is "looking aggressively" at building relationships for an electronic business-to-business exchange on its site. nextPix, located in the heart of Silicon Alley on Maiden Lane, has fewer than a dozen employees now, but plans to ramp up to 25 or more by the end of the year.
While nextPix's services will be available over dial-up lines, broadband connections will enable users to make more efficient and thorough use of the company's applications. And as more Web surfers have access to high-speed connections, filmmakers should be able to find disparate, interested audiences that are prohibitively expensive to reach via traditional film-distribution channels. In Thompson's grandest long-term vision—"community development through collaborative filmmaking and cheaply distributed niche content"—broadband technology is a key element.