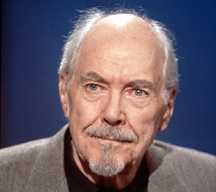 Robert Altman (1925- ), American motion-picture director, producer, and screenwriter, known for his idiosyncratic, iconoclastic, and innovative feature films. Altman was born in Kansas City, Missouri, where he apprenticed making films with the Calvin Company. Altman directed television programs in Hollywood in the late 1950s before scoring a surprise hit with the movie M*A*S*H in 1970. He became renowned for his unorthodox production methods (cast and crew lived on the "Army camp" set), daring style (overlapping, improvisational dialogue, and semidocumentary-style camerawork and editing), and for his irreverence toward Hollywood genres and authority.
After M*A*S*H, Altman directed a string of well-received films, including McCabe and Mrs. Miller (1971), Images (1972), The Long Goodbye (1973), Thieves Like Us (1974), California Split (1974), and Nashville (1975). However, Altman alienated audiences, industry people, and film critics as his films became increasingly mean-spirited or eccentric, as in Buffalo Bill and the Indians (1976), A Wedding (1977), and Quintet (1980).
Altman closed his Hollywood production center after Popeye (1980), which made a profit but earned little acclaim. After directing several off-Broadway plays, he spent most of the 1980s filming stage dramas for art houses or cable TV. Notable projects include Come Back to the 5 and Dime, Jimmy Dean, Jimmy Dean (1982), Laundromat (1983), Streamers (1984), and Secret Honor (1984). Altman also directed the movie Vincent and Theo in 1990.
Altman's openness to alternative formats reached its peak in Tanner '88, an epic project for cable television. Featuring a fictitious candidate for the 1988 United States presidential nomination, Tanner was written and shot as the real campaign unfolded, with such real-life personages as Senator Bob Dole and Kitty Dukakis, wife of Democratic presidential candidate Michael Dukakis, mingling with the professional actors. Altman also directed The Player (1992), a sardonic Hollywood-on-Hollywood satire that restored him to directorial stardom. That success was followed by Short Cuts (1993), an intricately interwoven multi-character narrative of contemporary mores in Southern California. Altman was nominated four times as best director by the Academy of Motion Picture Arts and Sciences—for M*A*S*H, Nashville, The Player, and Short Cuts. Laundromat and Tanner '88 won Emmy awards.
(Source: Microsoft¨ Encarta¨ Online Encyclopedia 2000 © 1997-2000 Microsoft Corporation. All rights reserved.)