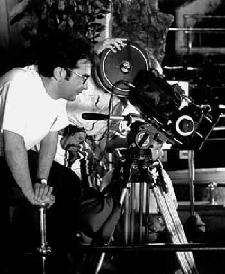 Atom Egoyan (1960- ), Canadian film director, producer, and screenwriter. He is known for his innovative, complex, and compelling film dramas.
The son of Armenian refugee parents, Egoyan was born in Cairo, Egypt. His family immigrated to Canada when he was three, and he was raised in Victoria, British Columbia. He made his first short film, Howard in Particular (1979), while attending the University of Toronto's Trinity College. After several more shorts, he wrote and directed his first feature-length film, Next of Kin (1984). The film is about a lonely young Canadian who pretends to be the long-lost son of an eccentric Armenian couple. It drew from Egoyan's ethnic background and established what would become recurring themes in his films: isolation, alienated families, and the influence of media and technology on creating identity. His second feature, Family Viewing (1987), expanded on these themes.
Egoyan's next two films were both invited to premiere at the prestigious Cannes Film Festival in France. Speaking Parts (1989) follows three characters at a hotel—a writer grieving for her dead brother, a narcissistic young actor who is cast in her screenplay, and a hotel maid who is obsessed with the actor. The Adjuster (1991) was Egoyan's first film to gain widespread distribution in the United States. In it, an insurance adjuster, unable to communicate with his own family, tries to find emotional links with his devastated clients.
Egoyan's next film, Calendar (1993) again drew from his Armenian roots. Egoyan acted in the leading role—a photographer on assignment in Armenia whose wife (played by Egoyan's real-life spouse, Arsinée Khanjian) falls in love with their guide. Exotica (1994) focuses on the patrons of a strip club, and the film won the International Critics' Prize at Cannes. Egoyan's follow-up film, The Sweet Hereafter (1997), was adapted from the Russell Banks novel about a town divided by greed and grief in the aftermath of a school bus accident. It was nominated for two Academy Awards in the United States, won the Grand Jury Prize at Cannes, and received two Canadian Genie Awards, including best film and best director. Egoyan's next film, Felicia's Journey (1999) tells of an encounter between a pregnant young Irish woman and a genteel serial killer.
Egoyan has also worked in television. He directed a TV movie, Gross Misconduct (1992), about the life and death of hockey player Brian "Spinner" Spencer and several episodes of Alfred Hitchcock Presents and The Twilight Zone. In 1996 he mounted a production of the Richard Strauss opera Salome for the Canadian Opera Company and wrote the libretto for a 1998 production of Rodney Sharman's opera Elsewhereless.
(Source: Microsoft¨ Encarta¨ Online Encyclopedia 2000 © 1997-2000 Microsoft Corporation. All rights reserved.)