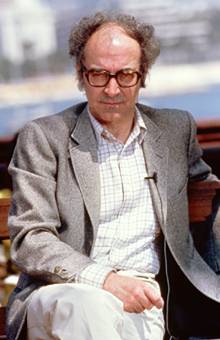 Jean-Luc Godard (1930- ), French motion-picture director, considered the most innovative and most influential figure of the French nouvelle vague (new wave) movement, which held that a film should reflect the personality and concerns of its director. Born in Paris the son of an upper-middle-class family, Godard attended the University of Paris. As a student he spent most of his days at cinema clubs and at the Cinémathèque Français film archive. Godard also wrote film criticism for the influential periodical Cahiers du cinéma (Notes on the Cinema). He taught himself filmmaking by buying a 35-millimeter motion-picture camera and making a series of short films.
Godard's first feature-length film, À bout de souffle (1959; Breathless, 1961), established him as the leading figure of nouvelle vague. Modeled on the genre of American gangster films, À bout de souffle displayed some of the techniques that became part of Godard's characteristic style: jump cuts (cutting the film in the middle of a scene rather than between scenes); unusual camera angles; jerky scene changes that called attention to themselves, reminding viewers that they were watching a film; improvised dialogue; and lengthy philosophical discussions. These techniques, considered radical at the time, have now been thoroughly absorbed into mainstream motion-picture production. Ë bout de souffle initiated a new era of filmmaking, both in France and around the world.
Godard's prolific film output in the 1960s included Une femme est une femme (1961; A Woman Is a Woman, 1964), Le petit soldat (1963; The Little Soldier, 1965), Alphaville (1965), Le mépris (1963; Contempt, 1964), Une femme mariée (1964; The Married Woman, 1965), Masculin-Feminin (1966), Made in U.S.A. (1967), La chinoise (1967), and Weekend (1967). These films were somewhat critical of Western capitalist society, particularly of French and American foreign policy, and all the films experimented with narrative form. Godard's films gradually evolved into complex political statements that combined documentary footage; shots of posters, comic strips, and advertisements; and staged scenes.
Between 1968 and 1973, Godard produced a series of motion pictures through the Dziga-Vertov Group. A film cooperative named after the Soviet documentary filmmaker of the 1920s, the group was dedicated to making "revolutionary films for revolutionary audiences," according to Godard. After dissolving the Dziga-Vertov Group in 1973, Godard organized a media laboratory to experiment with combining film and video images. He resumed film production in 1980, directing Sauve qui peut la vie (Every Man for Himself, 1980), Je vous salue Marie (Hail Mary, 1984), and King Lear (1986). His other films include Nouvelle vague (New Wave, 1990), Helas pour moi (Woe Is Me, 1993), and JLG by JLG (1994).
(Source: Microsoft¨ Encarta¨ Online Encyclopedia 2000 © 1997-2000 Microsoft Corporation. All rights reserved.)