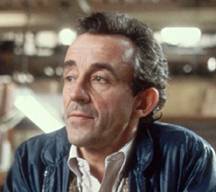 Louis Malle (1932-1995), French director of influential and often controversial motion pictures. Malle was born into a wealthy family in an industrial region in northern France. He began studying motion pictures in 1951 at the French government's esteemed film school, the Institut des Hautes Études Cinématographiques.
Malle began his filmmaking career as an assistant to French marine explorer Jacques Cousteau. Together they filmed Le Monde du silence (The Silent World, 1956), a documentary about submarine exploration that won the prestigious Palme d'Or in 1956 for best picture at the Cannes Film Festival. Malle's first feature-length film was Ascenseur pour l'échafaud (Frantic, 1957), a thriller starring French actor Jeanne Moreau. His next film, Les Amants (The Lovers, 1958), cast Moreau as a housewife involved in passionate extramarital affairs. The film's frank sexuality established Malle's reputation for courting controversy.
Malle's central characters are often social deviates, but he depicts them with sensitivity and grace. For example, the title character of Zazie dans le Métro (Zazie, 1960) is a lewd, 11-year-old cynic; Le Souffle au Coeur (A Murmur of the Heart, 1971) is a comic portrayal of incest; New Orleans prostitutes are sympathetically portrayed in Pretty Baby (1978); and Atlantic City (1980) follows a destitute and aging crook through the city's dilapidated streets. While Malle's films vary enormously from one another, his direction generally lends charm and sophistication to his subjects. One of his more unique films, My Dinner with André (1981), chronicles the impassioned dinner conversation of two old friends reunited after a long separation. The film's charged dialogue and subtle camera movement made it a commercial hit with intellectuals in the United States, but it was less successful in France.
In 1987, Malle directed his most autobiographical film, Au Revoir, les Enfants (Goodbye, Children). He based this film on memories of his childhood when Jewish classmates were sheltered in his Catholic school during the Nazi occupation of France. The film received a great deal of international attention, winning the Leone d'Oro for best picture at the Venice Film Festival (1987) and nominations for best foreign language film and best screenplay at the Academy Awards (1987).
Malle's last film, Vanya on 42nd Street (1994), follows a rehearsal in New York City of Uncle Vanya, a play by Russian dramatist Anton Chekhov. Starring the same two principle actors of My Dinner with André, Vanya on 42nd Street blurs the distinction between life and theatrical performance.
(Source: Microsoft¨ Encarta¨ Online Encyclopedia 2000 © 1997-2000 Microsoft Corporation. All rights reserved.)