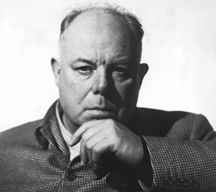 Jean Renoir (1894-1979), French actor and motion-picture director, one of the master filmmakers of world cinema. Born in Paris, Renoir spent much of his youth in the country in Provence, where he was educated at the University of Aix-en-Provence. As the son of impressionist painter Pierre Auguste Renoir, he was exposed early to the worlds of art and nature, a contrast he later explored in his work. After World War I (1914-1918), having served in the French cavalry, Alpine infantry, and air force (for which he received the Croix de Guerre), Renoir became a ceramist.
In the 1920s, using a small inheritance from his father, Renoir began to write, direct, and produce films for his own independent production company. His early silent films, such as La Fille de l'Eau (1925) and Nana (1926), starred his wife, Catherine Hessling, once a model for his father. Renoir embraced the advent of sound in films, revealing a major talent when, in 1931, he released his second talking picture, La Chienne, a story of bohemian life in Montmartre. This was soon followed by such notable films as Boudu Saved From Drowning (1932), Madame Bovary (1934), Toni (1935), The Crime of Monsieur Lange (1936), and Lower Depths (1936). The moving antiwar film Grand Illusion (1937) and the social tragicomedy The Rules of the Game (1939), generally considered his masterwork, confirmed Renoir's regard as a filmmaker of genius.
An innovator whose greatest contributions lay in his willingness to take risks, to improvise, and to resist convention, Renoir experimented throughout his career with a wide variety of cinematic techniques that imparted to his style a unique fluidity. Perhaps most apparent was his penchant for long, uninterrupted sequences and deep-focus photography, which helped him to create a sense of the wholeness of a scene and to follow the activities and interrelationships of the actors without separating or isolating them. Other hallmarks of Renoir's work include his lifelong interest in exploring the relation between theatre and reality and his fascination with water imagery, which he used repeatedly as a symbol of the perpetuity of life.
From 1941 to 1947 Renoir made motion pictures in Hollywood, California. His Hollywood films—Swamp Water (1941), This Land Is Mine (1943), The Southerner (1945), Diary of a Chambermaid (1947), and Woman on the Beach (1947)—are generally ranked among his least successful works, with the one exception being The Southerner. In 1950, offered conditions of total autonomy, he went to India to make The River (1951), a lyrical color film of great beauty and delicacy photographed by his nephew, Claude Renoir. He returned to Europe to film The Golden Coach (1952) in Italy, and Only the French Can (1955) and The Elusive Corporal (1961), both made in France. His final film, The Little Theatre of Jean Renoir, an anthology of sketches, was originally made for French television in 1971. Renoir's writings include the memoir Renoir, My Father (1961; translated 1961), the autobiography My Life and My Films (1974; translated 1974), and the novel The Notebooks of Captain Georges (1966; translated 1966). His honors include a special Academy Award in 1975 for his cumulative contribution to film art, and his decoration with the Legion of Honor by the French government in 1977 following a public tribute in Hollywood by the Academy of Motion Picture Arts and Sciences. He spent his last years at his home in Beverly Hills, California.
(Source: Microsoft¨ Encarta¨ Online Encyclopedia 2000 © 1997-2000 Microsoft Corporation. All rights reserved.)