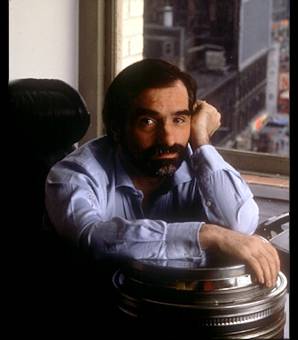 Martin Scorsese (1942- ), American motion-picture director, whose best films have reflected the Italian American experience of his childhood in New York City's Little Italy neighborhood. He was born in New York City and educated in a Roman Catholic junior seminary and at the New York University film school, where he won awards for his student films. Scorsese attracted critical attention with his first feature film, Who's That Knocking on My Door? (1968), which he financed and made entirely on his own. He worked in documentary films for a period of time and then was hired by American producer Roger Corman to direct a low-budget film, Boxcar Bertha (1972), an opportunity that afforded Scorsese contact with the mainstream film industry of Hollywood, California.
In 1973 Scorsese made the first of his films set in New York City, Mean Streets, a powerful portrayal of life in Little Italy. It announced Scorsese's arrival as a major directorial talent, also beginning his long collaboration with actor Robert De Niro. His next film, Alice Doesn't Live Here Anymore (1975), was a popular success. The following year he achieved critical success with Taxi Driver, a disturbing story of a loner carrying on a crusade of his own to clean up his city. The film is notable for Scorsese's hyperkinetic camerawork and De Niro's performance in the lead role. New York, New York (1977) was a flashy tribute to the Hollywood films—especially the musicals—of the 1940s and 1950s that Scorsese had enjoyed as a child. After filming the documentary The Last Waltz (1978), which some critics have called the best concert movie ever made, Scorsese filmed a brutal, intense portrait of former middleweight boxing champion Jake La Motta in Raging Bull (1980). De Niro's performance as La Motta won him the Academy Award for best actor, and Scorsese was nominated for best director.
Scorsese turned to comedy—albeit dark comedy—with The King of Comedy (1983) and After Hours (1985); directed The Color of Money (1986), a sequel to The Hustler (1961); and in 1988 sparked bitter controversy with his film The Last Temptation of Christ, based on a 1960 novel by Greek author Nikos Kazantzakis that depicts Christ as an ordinary human being with conflicting desires. Scorsese also contributed one of the three segments of New York Stories (1989), an anthology film that also includes vignettes by Woody Allen and Francis Ford Coppola.
In 1990 Scorsese directed the gangster film GoodFellas (again featuring De Niro), which received Academy Award nominations for best actor and best adapted screenplay. His other films of the 1990s include a remake of Cape Fear (1991); an adaptation of a novel by American writer Edith Wharton, The Age of Innocence (1993); and Kundun (1998), a portrayal of the life of the 14th Dalai Lama, the spiritual leader of Tibetan Buddhism. Much of Scorsese's work features vivid portrayals of violence and the uglier sides of human nature, but The Age of Innocence and Kundun were noted for their visual beauty.
Scorsese's style, distinguished by his intense scenarios and unpredictable camerawork, was influenced by his youthful attraction to the films of the French New Wave, his fondness for the work of British filmmaker Michael Powell and American filmmaker Vincente Minnelli, and his knowledge of American films of the 1940s and 1950s. He has been increasingly active as a producer with such films as The Grifters (1990), Mad Dog and Glory (1993; coproducer), and Naked in New York (1994; executive producer). He has acted in many of his own films and has made notable appearances in others as well, including Round Midnight (1986); Akira Kurosawa's Dreams (1990), as Dutch artist Vincent Van Gogh; and Guilty by Suspicion (1991).
(Source: Microsoft¨ Encarta¨ Online Encyclopedia 2000 © 1997-2000 Microsoft Corporation. All rights reserved.)